Products from
Paving Bricks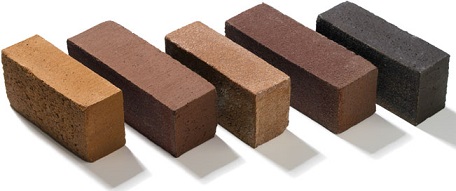 Domestic and public landscaping is now more than ever seen as important enhancement of the outdoor spaces. Our product range lifts this concept to new levels with inspiring options for all tastes. The extensive colour range provides an amazingly wide variety of opportunities to design garden, public areas and landscaping to suit al possible personal tastes and preferences. Pavers are coloured throughout, which allows the colour intensity to increase over time. Because of the wide range of colours, there is always a suitable colour or combination of colours available.
Pavers are a very sustainable product. Research has shown that pavers have a long life, up to 125 years. Because pavers are made of clay, they are a 100% natural product.
Pavers are manufactured in two types, sand-faced and smooth. As the name suggests, sand-faced pavers are fired with a thin layer of sand, producing a textured surface. This process is not applied to smooth pavers, creating a contrasting surface. Sand-faced pavers have a matt appearance and smooth pavers have a subtle sheen.
Benefits of Dutch Clay Pavers
Warm Look and Feel
Flexibility and huge freedom in designs
Long lifespan/ Sustainability
Colour Fastness
Environmentally friendly
Taking up and reusing
Easy to maintain
Open Paving
---